One of the things I want to do more of in 2011 is appreciate the simple things in life. The everyday things that make me happy, make me smile, make me love this life of mine a little more than I did before. Too often those are the moments and experiences that slip past, quietly and quickly, before we've had chance to really take them in.
One way I plan to do this is by following
Rebecca Cooper's
lead with her
Simple Things Challenge
. One simple photo and note is all it takes to more intentionally honour the simple things in my life.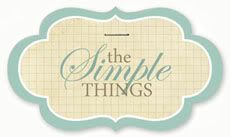 Starbucks. Stories. Christmas. All good things.
Starbucks coffee
(albeit decaf for the preggo ;)
in a Christmas cup. About as simple as it can get. Yet, it is so much more than that. For me, this picture captures a leisurely holiday afternoon spent with my husband, serves as a meaningful reminder that our life stories are worth sharing, and represents the weekly routines that I love so much.
Life really is about the simple things.